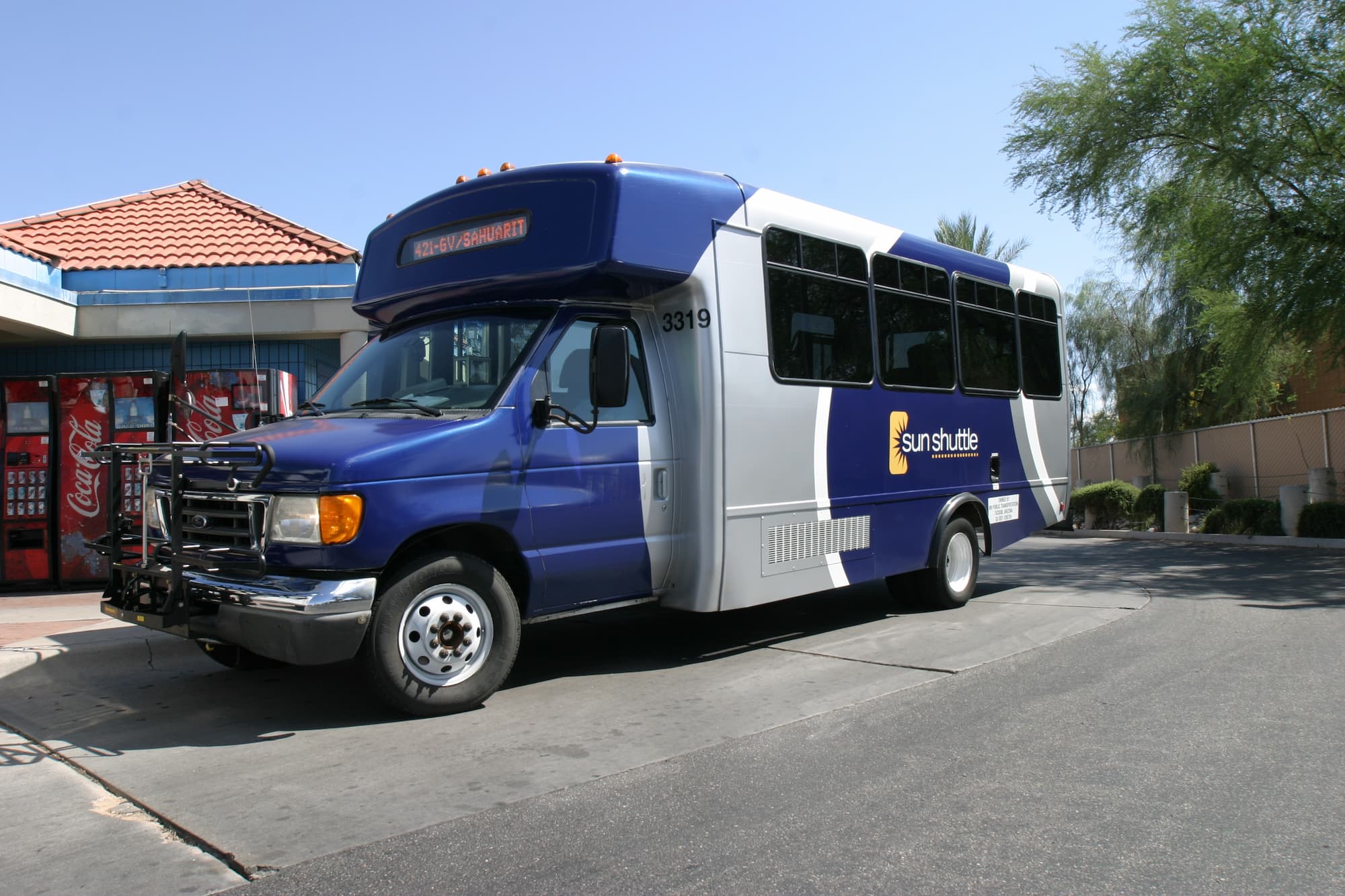 Home » Services » Transit »
Sun Shuttle
Neighborhood Transit
The RTA's Sun Shuttle neighborhood transit service was established to allow outlying communities and neighborhoods to connect with mass transit services offered by Sun Tran, Sun Express and the Sun Link streetcar.
The Sun Shuttle fixed-route service is available to people of all ages and needs in the communities of Marana, Oro Valley/Catalina, Green Valley/Sahuarita, Tucson Estates, the San Xavier District, Rita Ranch and Ajo.
Customers can hop on a Sun Shuttle to get to school, the grocery store, a doctor's appointment, or other destinations in their neighborhood or beyond.
The RTA contracts with Sun Tran to operate the Sun Shuttle service. Ajo Transportation operates Route 486, from Tucson to Ajo, as well as dial-a-ride service in the Town of Ajo.
Learn more about Sun Shuttle services:
Monthly Operations Reports
Sun Shuttle Dial-a-Ride (General Public)
Sun Shuttle offers on-demand, shared-ride service for anyone traveling within the Sahuarita/Green Valley and Marana/Avra Valley areas, as well as within the Town of Oro Valley and Ajo.
Trip reservations should be made one to seven days before the day of travel. Same-day service is available on a limited first-come, first-served basis. Reservations can be made by calling (520) 792-9222 or by downloading the Sun Shuttle Dial-a-Ride app on your phone through the Apple App Store or Google Play. You can cancel the same way you booked your trip, by either calling customer service, or through the app.
For more information, please call (520) 792-9222 or visit SunTran.com/SunShuttle.

Sun Shuttle Dial-a-Ride (ADA)
Sun Shuttle Dial-a-Ride provides door-to-door, paratransit service to persons with disabilities living outside the Tucson city limits or to City of Tucson residents needing to reach destinations outside the city limits. In 2022, Sun Shuttle Dial-a-Ride provided over 185,000 passenger trips throughout the greater Tucson region.
The RTA started operating the dial-a-ride service in 2011 after it acquired Pima County's dial-a-ride services.
National Express Transit, a worldwide leader in fixed-route and paratransit solutions, operates Sun Shuttle Paratransit (ADA) Dial-a-Ride. National Express Transit operates modified vans, which are fully equipped to load and unload wheelchair passengers of all ages and abilities. National Express Transit also operates under the vendor names of Total Ride and Total Transit in the Tucson metro market.
For more information or to schedule a trip, please call (520) 792-9222.
Accessibility and Reasonable Accommodations
The Regional Transportation Authority complies with the Americans with Disabilities Act. Persons with a disability or language barrier may request documents in alternative formats, translations or other reasonable accommodations. Requests should be made as early as possible to allow time to arrange the accommodation.
Sun Shuttle users may request accommodations via Sun Tran.
Sun Shuttle also will provide information in accessible formats and languages other than English and Spanish upon request. Advance notice is required to ensure availability. To make a request, please email us.
To File a Complaint
If Sun Shuttle users have a complaint about a reasonable modification, please complete the following reasonable modification complaint form.
If you feel you have been discriminated against based on your disability in violation of the Americans with Disabilities Act, please complete the following transit ADA discrimination complaint form.
For more information on related policies or forms, please visit the RTA Title VI page or Sun Tran.